Stéphanie Noël succeeds Edith Magyarics as Head of Victor Buck Services
After nine successful years at the helm of Victor Buck Services, Edith Magyarics steps down to be succeeded by Stéphanie Noël. The newly appointed CEO aims to build on the firm's rich heritage to open new perspectives.
Edith Magyarics joined Victor Buck Services (VBS) in May 2012. Armed with 20 years of experience in the investment fund industry, she arrived with the mission of diversifying the firm's services, attracting new clients, and expanding business internationally.
NEARLY 10 YEARS OF STRONG AND RAPID GROWTH
Her mission is now accomplished: in almost 10 years' time, VBS has experienced strong and rapid growth. Originally a service provider specialized in the fund industry, VBS has since become an international strategic partner, offering numerous information management and distribution solutions across a wide range of sectors (banking, insurance, public sector, health…). Edith's focus on profitability and operational excellence have distinguished her years at VBS, as well as her commitment to creating a synergy with the POST group.

The CEO's close ties to VBS customers have driven the company to constantly reinvent itself to continually meet their needs. This has resulted in several successful acquisitions, including the collaborative platform 'Docunify' and the document management solution 'Quartet'. Edith's passion for innovation has also opened new perspectives from within the company, notably with the launch of 'Joaneo', a new VBS brand dedicated to printed electronics and entirely based in Luxembourg. Offering a completely eco-friendly production process, 'Joaneo' also reflects the company's commitment to eco-responsibility.

Edith Magyarics, leaving Victor Buck Services, takes this opportunity to express her pride to VBS employees for the projects achieved and the challenges overcome together. Following an internal crisis in August 2020, the company managed to bounce back stronger than before. 'VBS has not been the same company since, and will never be the same again,' she emphasizes. Another reason Edith has chosen to leave is to allow this evolution to take its course. 'I feel that after 10 years and all we've been through together, it's time for someone else to take the reins at VBS. We need a different perspective; we need new blood.'

It is with emotion, but also with great confidence, that Edith Magyarics passes the torch to Stéphanie Noël, a well-known professional of the Luxembourg investment fund sector. 'Stéphanie and I know each other well and share the same core values of respect, hard work, and team spirit. It was important to me that I hand over the reins to someone whose values I share.'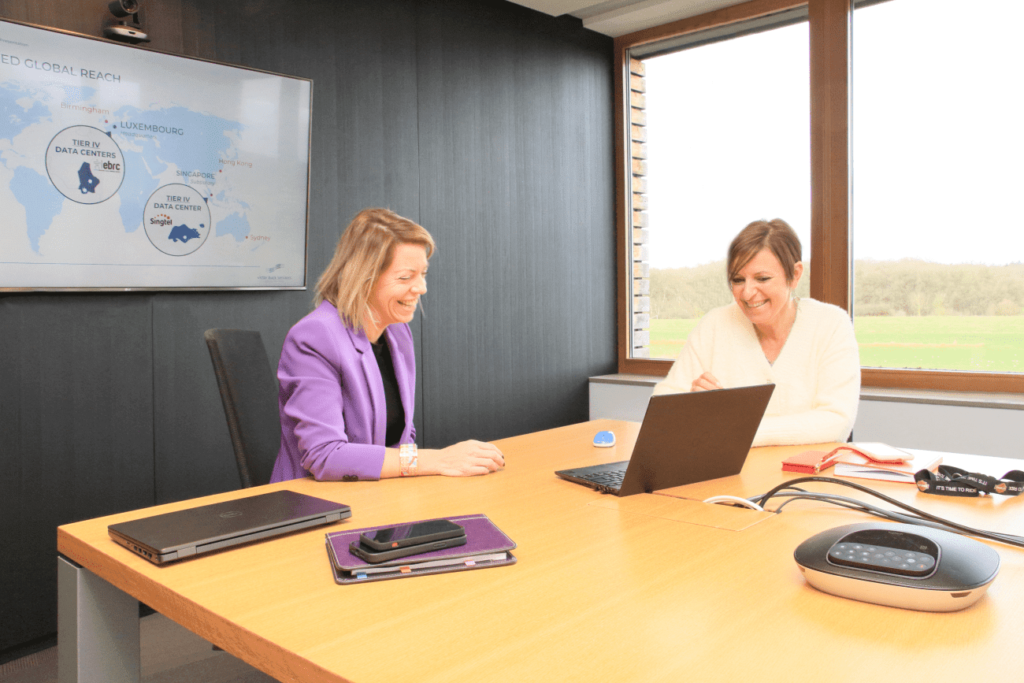 OPENING NEW PERSPECTIVES FROM A RICH HERITAGE
With over 17 years of experience in data management and regulatory reporting, the newly appointed CEO possesses extensive knowledge of VBS's ecosystem and will be able to capitalize on numerous assets. 'My role is to leverage the company's key resources. VBS has proven its resilience and maintains a strong strategic position. Its expertise and operational excellence can be adapted to a broad scope of applications.'
Having devoted her energy to digital transformation projects for the past three years, mainly outside of Europe, Stéphanie Noël will share her feedback on how strategic and technological innovations can — and must — be used to anticipate the needs of current and future clients.

The new CEO firmly believes in the values of trust and teamwork, which she describes as her leitmotifs. 'It is with customers, partners, and employees that we can build greater things. Together, we can work to quickly design innovative and scalable solutions.' Stéphanie Noël intends to rally VBS employees around these values to fully capitalize on the company's rich heritage and open new perspectives.

Edith Magyarics has joined PWC in January 2022, as managing director, head of operations design and product innovation.
Copyright: Alex Marsaud Photography