Visit of H.R.H the hereditary Grand Duke to the production site of VBS in Foetz
On Thursday, March 3rd, 2022, Victor Buck Services (VBS) had the honor to welcome His Royal Highness the Hereditary Grand Duke of Luxembourg, accompanied by the Minister of Economy Franz Fayot, for a visit of one of their production sites. VBS is a 100% subsidiary of the POST Luxembourg group and specializes in the collection, management and secure distribution of information and data essential to businesses.
In the framework of the diversification strategy of Victor Buck Services, Stéphanie Noël, CEO of VBS, welcomed H.R.H. the Hereditary Grand Duke of Luxembourg and the Minister of the Economy Franz Fayot on Thursday, March 3, 2022 at the VBS production site in Foetz. Were also present Serge Allegrezza, Chairman of the Board of Directors of POST Luxembourg, Claude Strasser, Chairman of the Board of Directors of VBS and CEO of POST Luxembourg, as well as of Jeannot Fürpass, Mayor of Mondercange. During this visit, VBS presented the evolution and perspectives of its activities, especially the different manufacturing steps of its new activity: the industrial printing of electronic antennas. This new factory, exclusively based in Luxembourg, stands out by its innovative and eco-friendly manufacturing process for printed electronics.
Since October 2021, Victor Buck Services markets these RFID1 and NFC2 antennas under a new brand name « Joaneo« . The entire production cycle is designed to minimize the environmental impact, from the printing technique to the choice of recyclable substrates such as paper. Joaneo's inlays & antennas serve multiple businesses through various applications such as authentication and traceability of objects in diverse sectors such as food, pharmaceutical and health in general, or logistics. In a local and sustainable approach, the complete production process is made in Luxembourg, from design and prototyping to full production of NFC and RFID antennas and inlays on multiple substrates.
In his speech, Minister of the Economy Franz Fayot welcomed the diversification strategy of POST in general and VBS in particular: « Innovation and digitalization contribute to economic progress. With this new innovative printing process, VBS has developed a concrete example of digital innovation that is more environmentally friendly. I am pleased that the company has chosen the Foetz site to develop this new activity which fits perfectly with our economic development strategy, towards a more sustainable and digital economy. In general, the POST group also demonstrates an ability to adapt to the needs of its customers and VBS shares this same dynamic.
Pierre Zimmer, Deputy General Manager of POST Luxembourg and member of the VBS Board of Directors said: « POST Group invests in innovation and particularly in digital solutions. VBS is the first company in Luxembourg to operate a production line for printing electronic circuits on paper. This innovative printing process allows POST Group to offer complete solutions for the health sector but also for the protection of high end products against falsification ».
During the visit, Stéphanie Noël, CEO of Victor Buck Services, summed up: « Joaneo » is a natural evolution for Victor Buck Services, which draws on 20 years of experience in the printing industry to provide innovative printed electronic solutions for a growing market using RFID technology. Our fully custom-built production line in Luxembourg is ready to meet the specific and demanding needs of our customers who are increasingly concerned about reducing their environmental impact.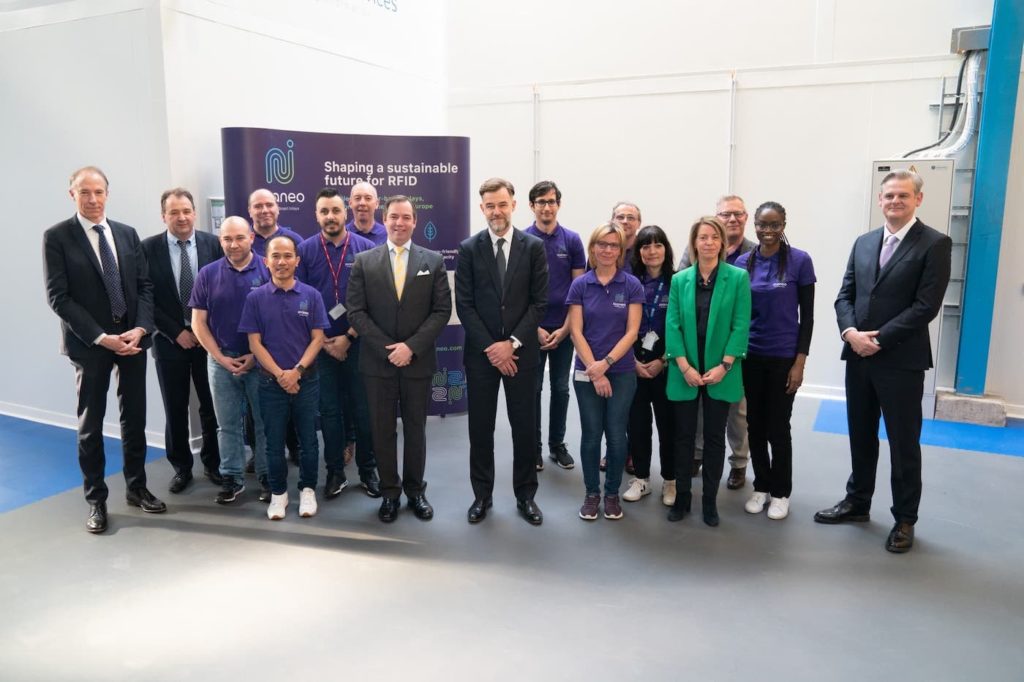 1. Radio Frequency Identification
2. Near Field Contact

Source: POST Luxembourg, March 3, 2022

Press contact
Paul RAUSCH
Communication & Public Relations / POST Luxembourg
Tel: (+352) 2424-6868 / press@post.lu
ABOUT VICTOR BUCK SERVICES
Victor Buck Services was founded in 2000. Initially the company offered management and distribution services for distribution of financial documents, with PSF status in Luxembourg. VBS has gradually grown into a full service international company offering comprehensive services for the collection, management and secure distribution of business critical information and data.

With more than 20 years of experience, Victor Buck Services is a recognized expert in the management of outsourced customer communication management and secure business information processing. Numerous entities around the world benefit from VBS services, including those in the financial, insurance and health industries.

Victor Buck Services is a 100% subsidiary of Post Group.